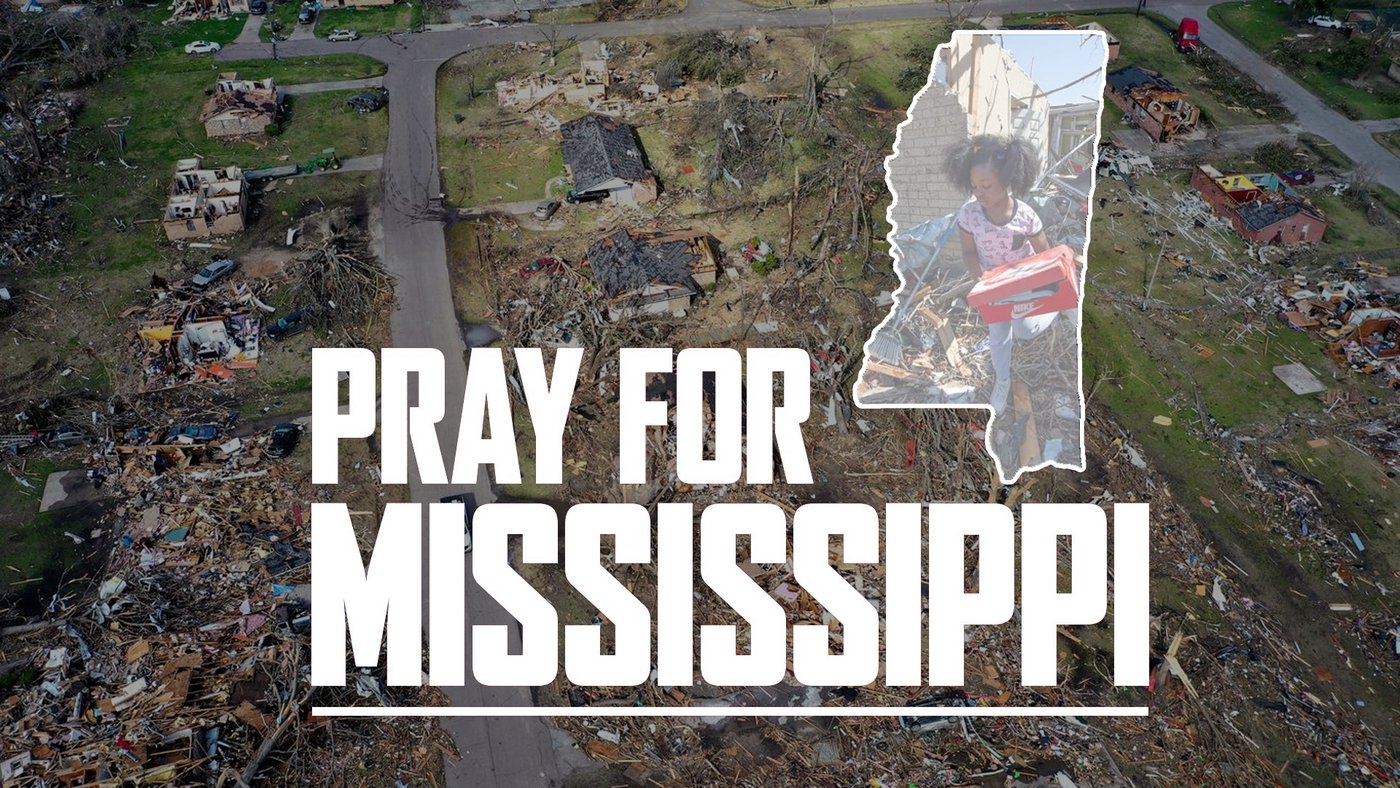 As the world watches the heartbreaking images and videos coming out of Mississippi, you may find yourself at a loss of how you can best pray or support our friends and neighbors right here in the Southeast. At least 26 people were killed and dozens injured after powerful storms and at least one EF-4 tornado pummeled the city of Rolling Fork and surrounding areas. Here is how you can pray and give.
PRAY
1. Pray for disaster survivors.
"Have mercy on me, my God, have mercy on me, for in you I take refuge. I will take refuge in the shadow of your wings until the disaster has passed." —Psalm 57:1
2. Pray for quick responses from ministries and churches.
"And as for you, brothers and sisters, never tire of doing what is good." —2 Thessalonians 2:13
3. Pray for God to fill His people with peace.
"Do not be anxious about anything, but in every situation, by prayer and petition, with thanksgiving, present your requests to God. And the peace of God, which transcends all understanding, will guard your hearts and your minds in Christ Jesus." —Philippians 4:6-7
4. Pray for children separated from their families or who have lost loved ones.
"Blessed are those who mourn, for they will be comforted." —Matthew 5:4
5. Pray for the Lord to show mercy and an open door for the Gospel.
"Answer me when I call to you, my righteous God. Give me relief from my distress; have mercy on me and hear my prayer." —Psalm 4:1
GIVE
As always, we want to encourage giving to reputable Christian ministries that have a reputation and presence. Our PCA's domestics missions arm, MNA, is on the ground serving. You can find updates and give at: https://pcamna.org/deadly-tornadoes-strike-the-southeast/
Also, Samaritan's Purse is one of the leaders in Christian response and relief efforts. You can find out more about what they are doing to respond in Mississippi and give through their website: https://www.samaritanspurse.org/article/samaritans-purse-responding-after-deadly-mississippi-storms/
GO
We are always looking for tangible ways, beyond prayer and financial giving, to be the hands and feet of Jesus... to literally put boots on the ground. We weigh many factors including skill sets, distance, financial cost and resources to best decide when and if to mobilize. As of right now we do not have plans to mobilize a disaster response team or mission team but if you feel particularly burdened, email Pastor Todd and he can connect you with potential opportunities.